Deck #5
Available
|
Not Available
Cabaret Lounge
A seductive space with a full stage, offering sensual, temperature-rising shows by internationally recognized performers. And for an exciting nightclub experience, come back ready for a excitingly sinful night, as this hotspot serves as a stimulating late-night party venue with incredible on-demand DJs. See you there!
---
Casino
Test your skill, or prove to your fellow guests that beginner's luck is real. The Casino will keep you entertained with blackjack, roulette, slot machines, and three-card poker games. Group and individual gaming lessons are offered at no charge - a great way to learn gaming strategy! The Casino accepts payment by Key Card, cash, credit card, travelers' checks and foreign currency.
---
Spirits
And for all you sports fans, the Spirits bar adjacent to the Casino features a flat-screen TV and full bar, making it a very pleasant place to keep up with your favorite teams.
---
Photo Shop
Our photographers capture both fun and professional photos throughout the voyage, whether it is your portrait, or photos of the destinations you visit. You can also find an assortment of supplies for your own photographic endeavors.
---
The Journey Shop
It's one-stop shopping in The Journey Shop . Apparel, sundries, handbags, candies, souvenirs and lots more await. If you find that you forgot to pack something, chances are you'll find it in The Journey Shop .
---
Indulgences
Aptly named, Indulgences will satisfy your desires for the finer things in life. If you are looking for designer jewelry, it's the perfect place to window shop or to find that extra special purchase.
---
Mosaic Café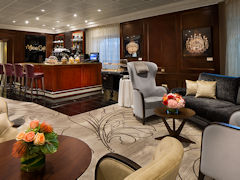 View larger Image
Our onboard coffee corner may very well become your favorite nook on the ship. You'll find all your favorite coffee drinks and you can order them just the way you like. If you'd like to try our Nespresso specialty coffee (for a fee), Mosaic Café is the place. We recommend that you slip right into a comfortable seat and sip for a while - you never know who'll walk by..
---
Discoveries Bar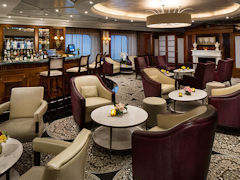 View larger Image
Located just outside Azamara's main restaurant, this congenial bar is a favorite gathering place for pre- and post-dinner conversation and drinks. Bar service includes a full selection of fine wines, mixed drinks, and premium spirits…plus the entertaining banter of Azamara's friendly bartenders.
---
Discoveries Restaurant
With open seating and delicious nightly selections, our main restaurant is not to be missed. You'll find all your classic dinner favorites, very likely with a different twist, like gulf shrimp with cognac and garlic or a filet mignon with black truffle sauce. What's more, open seating provides you the opportunity to dine at your leisure.
Deck legend
Convertable Sofa Bed
Club Continent Suites with Tub
Interior Staterooms Door Location
Connecting Staterooms
Restrooms
Smoking Area
Wheelchair-Accessable Stateroom
ADULTS-ONLY • COUPLES-ONLY • CLOTHING OPTIONAL VACATION • SENSUAL EXPERIENCES • EXCLUSIVE SERVICES